HTPS organizes three day camps in Pyysaari, the first and second week of June, and the first week of August. The camps are suitable for both beginners and those who already know the basics of sailing.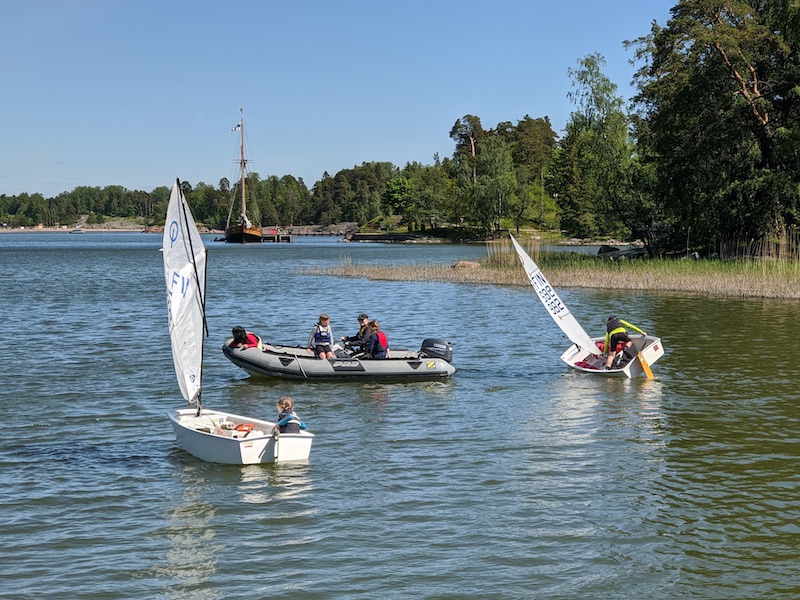 In the Children's Sailing School, you learn to control a dinghy independently and at the same time get great experiences in a nature-friendly and versatile sport. Optimist and Zoom8 dinghies are used as boats.
Children's Sailing School is a concept of the member clubs of Suomen Purjehdus ja Veneily ry, whose goal is to organize high-quality elementary sailing education all over Finland. In the children's sailing school, skills are taught in a safe environment under the guidance of trained instructors. The goal of the Children's Sailing School is that at the end of the course, the participant has completed the SPV dinghy sailor's green skill badge. The criteria for the green skill badge can be found in the Junior sailor's training book.
Read more about the renewed Children's Sailing School concept on the new pages of the Children's Sailing School.
The instructors at the camps and training sessions are young people and adults who have completed the junior instructor training of the Suomen Purjehdus ja Veneily ry (SPV). The young instructors are former optimist and Zoom8 dinghy sailors.
Children and young people who have completed the elementary course can continue their hobby by participating in the weekly exercises organized by the club. As you progress, you can also participate in training groups and competitions of different competitive level groups together with your teammates.
You can find the dates and prices of Pyysaari Children's Sailing School's day camps, as well as registration, on the East Side Sailing Team website.
The participation fee includes joining the club, the first year's membership fee, SPV membership and member's magazine, sailor's insurance and the right to participate in the club's weekly practices. Registration for Pursiniemi's traditional summer camp takes place on a separate form, read more on the page Jollaleiri Pursiniemi.
East Side Sailing Team is an association of twelve sailing clubs and boat clubs from East Helsinki, Sipoo and Vantaa. It offers high-level sailing education and training for children and young people in its area of operation. The activity consists of courses, exercises, coaching and competitions organized in the water areas of eastern Helsinki.